Odour Control, Lasting Protection
At the heart of the Cleaning and Disinfecting Program is the safety of your workers, consumers, products, and operations. To provide microbial control, heavily regulated industries from food production to public transportation have trusted Pace for PMRA and CFIA registered effective proprietary cleaning and disinfecting products.
To avoid downtime due to permit violations, staff shortages from sickness, or rejected shipments of produce, using the correct cleaning product is essential.
Approved by Health Canada, our highly effective concentrated disinfectants and cleaning products offer industrial results. Whether they are applied to break-room counters, coolers, floors or packing machine surfaces, we have a cost-conscious solution for your facility's needs.
Pace ACBD (Always Clean Before Disinfecting) System®
Our experts have developed Safe Standard Operating Procedures (SSOP) for local and multinational food processing companies using HACCP (Hazard Analysis and Critical Control Points) standards. Cleaning schedules should comply with regulations and focus on protecting workers and the general public.
Scrub the area with appropriate detergent.
Thoroughly rinse the detergent off with water.
Apply disinfectant, KleenGrow or Chemprocide, at recommended concentrations to kill target microbes and provide residual control.
Contact Pace to be connected with a representative so they can help with procedural questions and for ordering cleaning and disinfecting supplies for your facility.
Look for news soon about Human Corona-virus being added to our disinfectant labels.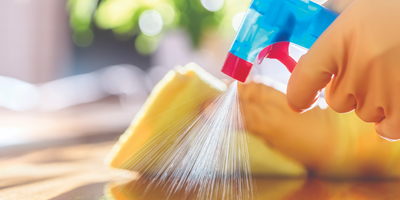 Related Article
The Canadian leader in providing solutions for water treatment and industrial cleaning/disinfecting has received a virucide designation from Health Canada for one of the company's most popular disinfectants, Chemprocide.