Efficiency Starts With Pre-Treatment
Decades of experience have shown us that each system, facility and water source possess unique characteristics. Customizable Pre-treatment Programs for each client are important because even municipally treated potable water contains impurities unsuitable for feed or makeup water in closed loop, open loop and steam boiler systems.
Hazards to System Health
Causes of premature equipment failure, water and energy efficiencies, and increase chemical consumption are:
Suspended solids
Colloidal material
Organics
Dissolved or suspended metals
Hardness salts
Achieving optimum system health and efficiency begins before the water enters the system. Our Pre-treatment Program is engineered to remove impurities and/or add eco-friendly treatments that promote system health and uptime.
Filtration
Removal of suspended solids in the process make up water and clarification of potable water can be achieved through multiple types of filtration. From sand filters to multi-media filters, our experts can determine the most economical, energy efficient and environmentally friendly filtration method suitable for your needs.
Reverse Osmosis (R.O.)
Reverse osmosis utilizes pressure on a semi-permeable, ultra-fine membrane to reject particles and ions in water to the microscopic level. The result is excellent quality water with low alkalinity. In steam boilers, this increases concentration ratios and decreases alkalinity, translating into lower water, chemical and energy consumption, and a reduction in the cost of operation. For a reverse osmosis unit to continue to provide such benefits, high-quality antiscalants and regular cleanings are required.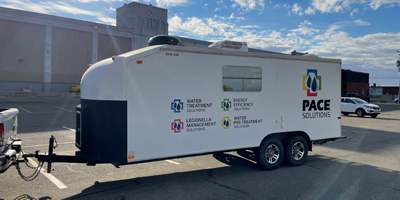 Related Article
Pace has added a mobile water treatment testing lab and field office to its Saskatchewan fleet to better service the vast area around Yorkton.
Expert Servicing
Our specialists perform a complete analysis of the system and the influent water, then utilize computer modeling to diagnose service and maintenance procedures. Trained technicians will fine-tune your unit, select the best products and devise the appropriate cleaning schedule for your system. The result is a pro-longed membrane lifespan, less down-time and more efficient water management. Customers experience an average return on investment in as little as two years.