How New Canadian GHG Reporting Rules Affect Buildings & Facilities
If you are a building owner, operator, or environmental manager, the Government of Canada wants your greenhouse gas (GHG) emissions data to be able to better determine the country's progress on fighting climate change. On January 28, 2023, Environment and Climate Change Canada (ECCC) published a Notice adding an addendum to the Canadian Environmental Protection Act  (CEPA). This is over-and-above reporting duties on a provincial level.
Canadian facilities and buildings produce GHG emissions by burning of fossil fuels like natural gas to heat boiler water for heating.  Structures that emit 10,000 tonnes or more of carbon dioxide (CO2) per year are subject to new GHG reporting requirements for operating years 2022 and 2023 under the federal Greenhouse Gas Reporting Program (GHGRP).  
According to ECCC, the reporting requirement, "allows ECCC to collect data on GHG emissions from facilities across the country to inform the public of the National GHG Inventory (submitted annually by ECCC to the United Nations Framework Convention on Climate Change) and federal regulatory initiatives."
Reporting GHG Emissions to CEPA
The program has collected data from facilities since 2004, however, this is the first time ECCC has published a notice covering two calendar years (2022 & 2023). The agency intends to support companies navigating the changes and will publish updates to technical guidance when available. Reporting is done using the Single Window reporting system used for the current GHGRP and National Pollutant Release Inventory (NPRI) reporting system. The submission deadline for reports is June 1 of 2023 and 2024 for the 2022 and 2023 operating years, respectively.
Previously, reporting requirements applied to certain industry sectors, but the Notice confirms that companies subject to both the federal and provincial GHG reporting regimes will no longer be able to cut corners by uploading their provincial report to the federal reporting system. In particular, emissions will have to be disclosed, for each facility, by source category as defined in the Notice.
This reporting rule is especially geared toward larger buildings which typically use natural gas fired boiler systems for heating. There are several ways to reduce emissions, such as installing more efficient boilers and pumps, as well as modern electronic monitoring systems. However, the most economical and proven way to save energy and reduce emissions by up to 15% is by using EndoTherm. EndoTherm is a heat-stable non-ionic surfactant system additive. It works by reducing the high surface tension of water inside pipes and coils by 60%. High surface tension limits temperature transfer causing the system to run inefficiently. By improving heat transfer, buildings reach temperature setpoints faster and retain setpoints using fewer cycles resulting in fewer emissions.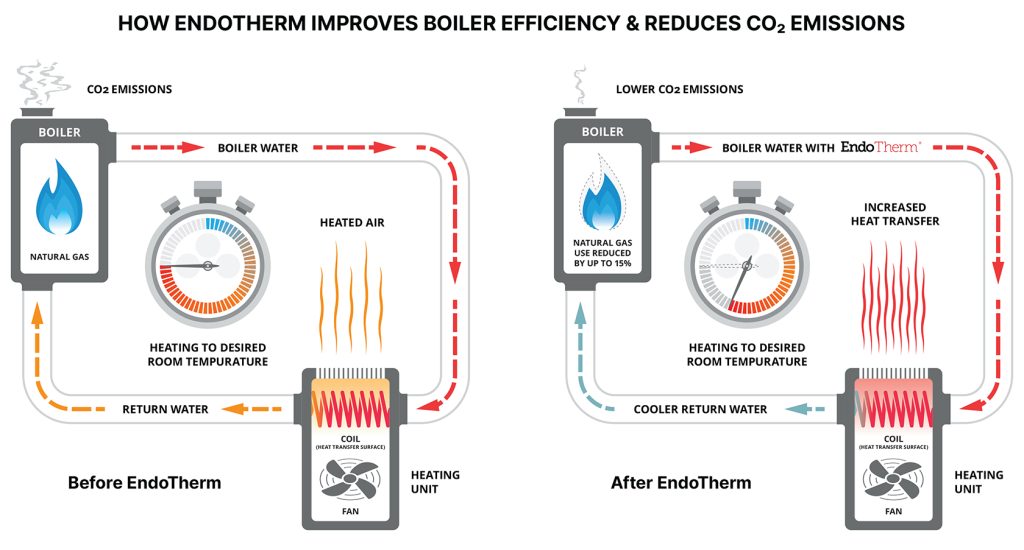 Able to perform side-by-side with glycol and corrosion inhibitors, installation is an easy one-person task, requires no downtime and, in most cases, involves no extra equipment. With proper system maintenance to mitigate leakage, a single treatment can last up to 10 years.
FortisBC customers in British Columbia and SaskEnergy Customers in Saskatchewan get a rebate on EndoTherm. Contact Pace Solutions' energy saving experts and we can walk you through the process.